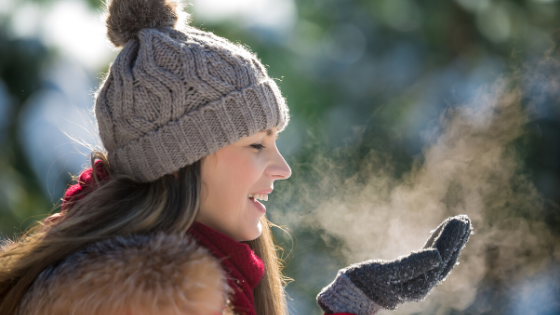 What To Do (And What Not To Do!) For Lung Health This Winter
From picnics and barbecues to long, sunny days, there are a lot of things to miss about warm weather during the winter months – but happy, healthy lungs shouldn't be one of them! If you feel like the cold winter air is harder on your lungs, you're not alone. Cold air tends to be drier air, which is irritating to our respiratory system, especially for those who live with chronic conditions like asthma, bronchitis, allergies, and COPD. Here are our top do's and don'ts for keeping your lungs healthy this winter. 
Our Top Do's and Don'ts For Happy Lungs All Winter Long!
DO Keep taking your medications as prescribed! Sometimes when we are feeling good, we forget to keep up with our regimens. Staying on top of your medications helps keep your condition under control.
DO wear your winter gear. Scarves that cover both your nose and mouth help warm the air before you inhale it, protecting your airways.
DO stay inside when temps drop. Severe cold weather makes it hard to protect your lungs from cold, dry air, so stick to indoor activities on frigid days.
DO have an emergency plan if your condition is serious and could become critical due to cold air exposure. Tell others where you'll be and have emergency medications, like your inhaler, with you.
DON'T skip your preventative care visits and immunizations, like your flu shot. Protecting yourself against viruses that can exacerbate your condition is a great way to keep your lungs healthy in the colder months.
DON'T hang out with sick people. Passing around germs is bad for everyone! Steer clear of anyone with viruses like a cold or flu, and stay home from work and activities yourself if you're sick. 
DON'T spend time outdoors on bad air quality days. Use resources like airnow.gov to check the air quality in your area.
Learn More
Simple prevention habits can make a huge difference when it comes to managing chronic conditions. Your care team can help you develop a plan to keep your condition controlled, so you can feel your best in every season of the year. Give us a call, we're happy to help.