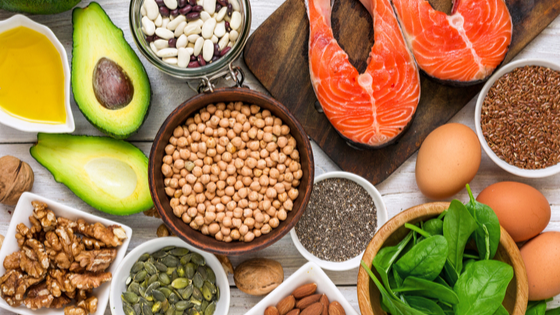 Lung-Friendly Foods
Exercise, quitting smoking, and following your treatment plan are all great ways to keep your lungs healthy, but did you know your diet can have an impact on your lung health? Certain foods have been shown to help support the health of your respiratory system. Here are some top tips for a lung-friendly diet.
Top 3 Tips For A Lung-Healthy Diet
Drink enough water.
Keeping your body hydrated helps reduce dryness and irritation in your lungs, so shoot to drink six to eight glasses of water every day.
Eat good fats.
Foods that are high in omega-3 fatty acids have been linked to lung health. Some great sources of good fats are:

Fatty fish like salmon, mackerel, oysters, and sardines
Walnuts
Flaxseeds
Chia seeds
Get your vitamins and minerals.
Taking a multivitamin is great, but whole foods are a robust source of vitamins and minerals, too! Here are some of the top sources of vitamins and minerals associated with good lung function:

Apples, citrus fruits,

and

fruits and vegetables

that contain vitamins C, E and beta-carotene were all found to be associated with good lung health. 

Apricots

contain vitamin A, which can support the respiratory tract lining and may lower the risk of lung infections.

Berries, grapes, cranberries,

and

strawberries

are rich in antioxidants.

Beans

like Kidney, pinto and black beans are good sources of antioxidants.

Broccoli

, a great source of vitamin C and antioxidants, is great for preventative health and for those with COPD.

Poultry

is rich in vitamin A and may be better absorbed than plant-based sources by your body.
What else can I do?
There are a lot of ways to help support your respiratory system and one of them is exercise, but not the kind you're thinking of. Breathing training is used by athletes to help reach elite fitness levels by increasing their endurance. For those suffering from conditions like asthma, breathing training can help strengthen your lung muscles and improve labored breathing and quality of life. Your pulmonologist can help you determine the best course of treatment for you. 
Learn More
Whether we're employing the latest advances in pulmonological medicine, or learning more about lung-friendly foods, we're passionate about lung health! Contact us or give us a call and learn how our caring staff can help you manage your symptoms and breathe easier.